A Tribute to.............
The Sentimental Gentleman Of Swing
As Performed By The Tom Daugherty Orchestra
New for 2014
"The Fabulous Dorseys Experience "
Video Presentation
(available at selected venues)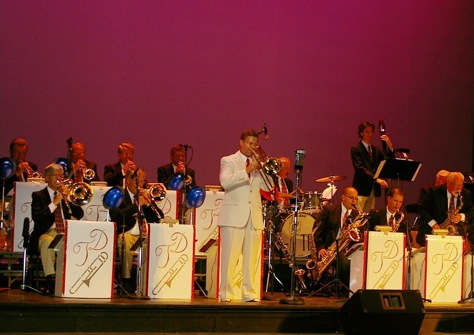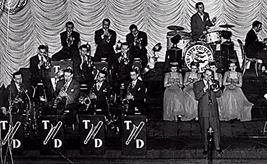 Tommy Dorsey is recognized as having one of the greatest all around dance bands. It could swing with the best of them and featured stars like trumpeters Ziggy Elman, Bunny Berigan, and Peewee Erwin, tenor saxist Bud Freeman, clarinetist Johnny Mince and Buddy DeFranco, drummer Davey Tough and the world's greatest drummer, Buddy Rich. Tommy Dorsey, "The Sentimental Gentleman of Swing," was a master at creating moods -- warm, sentimental and forever musical moods -- at superb dancing and listening tempos. And he showcased singers who could project those moods wonderfully--Jack Leonard, Jo Stafford, The Pied Pipers, and of course the most famous: Frank Sinatra. During the 1950's, Tommy Dorsey had one of the first television Big Band variety shows and featured two new unknown singers: Elvis Presley and Connie Francis.
Tom Daugherty Recreates the trombone stylings of
Tommy Dorsey
The 15 member "tribute" orchestra recreates the sound and the look of the original Tommy Dorsey Orchestra with the original music arrangements. The orchestra is under the direction of trombonist and musical arranger Tom Daugherty. Featured with the group are vocalists Michael Sonata who sings in the "Frank Sinatra" style, Mindy Meltzer, and vocal group "The Sentimental Singers" recreating the original "Pied Pipers" vocal group.
| | |
| --- | --- |
| | |
| The Sentimental Singers | Michael Sonata |
Recreating the sound and the look of the original
Tommy Dorsey Orchestra
with the original musical arrangements.
Musical Selections Include:
"Getting Sentimental Over You", "Opus One", "Song Of India"
"Sunny Side Of The Street", "Boogie Woogie", "Swanee River"
"Marie", "Blue Skies", "I'll Be Seeing You", "Our Love Affair"
"Lets Get Away From It All", "Hawaiian War Chant", and many more!
Plus a special tribute to the music of Frank Sinatra
| | |
| --- | --- |
| | |
| The Sentimental Singers | The Pied Pipers |
---
Email Swingin' Sounds Promotions
For more information contact:
Tom Pfrogner , Musical Director
Phone (937) 845-2468
Cell Phone (937) 239-3097
Swingin' Sounds Promotions LLC