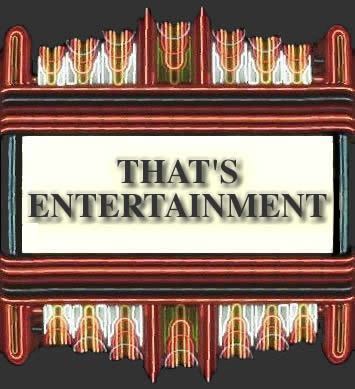 A BROADWAY AND FILM
MUSICAL EXTRAVAGANZA
This show features the
most famous and popular
broadway musicals and
movie showtunes. This
show is available with
15 piece "Big Band"
or 15 piece "Big Band"
with string section.
Featuring selections from:
"Phantom Of The Opera", "My Fair Lady",
"Cats", "The Band Wagon",
"Oklahoma", "Hello Dolly",
"Show Boat","Singin' In The Rain",
"Annie Get Your Gun",
"The Sound Of Music", "The Music Man",
"South Pacific",
and many more.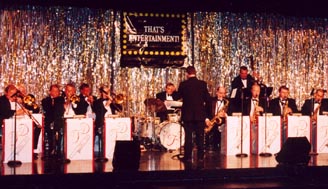 Musical Selections Include:
That's Entertainment! Overture
That's Entertainment! from "The Band Wagon"
"My Fair Lady": Wouldn't It Be Loverly,
On The Street Where You Live,
and Get Me To The Church On Time
Thou Swell from "A Connecticut In King Arthur's Court"
"Tribute To George M. Cohan": Yankee Doodle Dandy,
Over There, and Your A Grand Old Flag
Andrew Lloyd Webber Tribute "Cats": Memories
"Phantom Of The Opera": Think Of Me,
The Phanton Of The Opera,
and The Music Of The Night
Luck Be A Lady From "Guys And Dolls"
Theres No Business Like Show Business
From "Annie Get Your Gun"
Hello Dolly, From "Hello Dolly"
The Sound Of Music, From "The Sound Of Music"
New York, New York, From the movie "New York, New York"
"Oklahoma" Medley: Oh What A Beautiful Morning,
People Will Say We're In Love, and Oklahoma
Some Enchanted Evening from "South Pacific"
Singin In The Rain From the movie "Singin In The Rain"
"The Music Man" Medley: 76 Trombones, Gary Indiana,
Lyda Rose, and 76 Trombones Finale
That's Entertainment! From "The Band Wagon"
| | |
| --- | --- |
| | |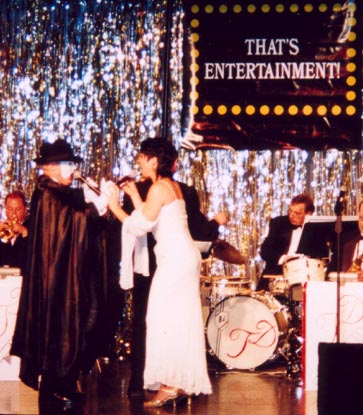 ---
For more information contact:
Tom Pfrogner , Musical Director
Phone (937) 845-2468
Cell Phone (937) 239-3097

Swingin' Sounds Promotions LLC