PROMOTION -BIOGRAPHY
MEDIA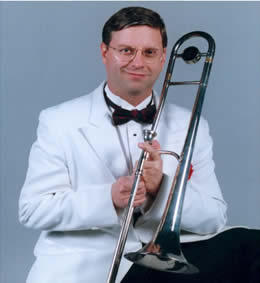 Tom Daugherty Pfrogner
"The Big Band Keeper of The Flame"
Musical Director
Band Leader, trombonist, musical arranger, vocalist, and music educator,
Tom Daugherty has been associated with the music business since 1979.
Tom has been the musical director and driving force behind The Tom Daugherty Orchestra since its inception. Because of his skills as a band leader, solo trombonist, and arranger, the organization has soared to new heights, performing his arrangements and transcriptions of the original "Big Band " swing music arrangements. He has formed and arranged music for the vocal group called the "Sentimental Singers" in the tradition of the original "Modernairs". Tom Daugherty has produced several recordings, television shows, and "live" radio broadcasts.

As a professional trombonist, Tom has performed with many outstanding groups including The Tommy Dorsey Orchestra , The Jimmy Dorsey Orchestra, and jazz artists such as Urbie Green, Maynard Ferguson, and Dizzy Gillespie. He was a student with Dick Shearer, lead trombonist with the Stan Kenton Orchestra. Tom has studied the Glenn Miller style with two former original Glenn Miller Orchestra members: Paul Tanner, featured and in many movies and recordings and Norman Leyden, Glenn Miller's Army Air Force Band arranger and conductor of the Oregon Pops Symphony. Tom Daugherty has been featured guest soloist with many university groups and The Air Force Band Of Flight.

As a musical arranger, Tom specializes in "Big Band" transcriptions and has written over 800 musical arrangements and transcriptions. He arranges music for many groups throughout the country and in Europe including: The Air Force Band Of Flight for all of their Glenn Miller Tribute Concerts, Mike Berkowitz and The Gene Krupa Orchestra, The Rob Zapulla Sinatra Tribute Show, Walt Andrus vocalist, and The Tommy Dorsey Orchestra.

Performance Quotes
"The Tom Daugherty Orchestra's reputation as
"first class" musicians brought a sell out crowd."
Teresa Lacy Special Events Director
The National Museum Of The
United States Air Force
"An Outstanding performance...........
concert goers enjoyed the standards but also the
'90s swing hit makers were also well received"
Karen Durham Director
Fraze Pavilion Kettering ,Ohio
"A jump-jivin' good time."
Tom Hopkins Dayton Daily News
"A Five Star Performance"
Jeannette McFarlin Celina Daily News
"Fabulous Performance, You are the best!"
Dale Huffman Dayton Daily News
"The true keepers of the flame".
Norman Leyden Conductor Oregon Pops
Arranger with Glenn Miller's AAF Band during WWII
"Most impressive, wonderful band".
Paul Tanner Trombonist with original
Glenn Miller Orchestra, Professor UCLA
Past Client Quotes
Your music was fabulous.... the perfect compliment to the venue.
We received nothing but high praises from our guests regarding the
sound and entertainment factor that Swing Shift brought to our event.
We would be most happy to serve as a reference at any time
and if there are any web sites where we could post
a very favorable review, please let us know.


Again, we absolutely enjoyed Swing Shift! Thank you so much
Tom and Susan French..... Cincinnati, OH

When you hear the phrase "The band makes the party"
it couldn't have been more true than when applied to the
Tom Daugherty Orchestra. Their Big Band Swing sound made a
very special event even more memorable. They were professional,
accomodating, flexible and FUN. They are incredibly talented
and left us all in awe. They have a song list a mile long.
They are the "complete package" with great musicians and vocalists.
Thank you Tom Daugherty Orchestra...
you made the night a night to remember.
Judith B........Centerville, OH

Amazing performance!
Deb D.......Dayton, OH
Past Client Performances
This is just a small sampling of our
past and current clients.
The National Museum Of The
United States Air Force
Cedar Point Amusements
The Greenbrier Resort
NCR Corporation
Sara Lee Corporation
Henny Penny Corporation
Gerber Corporation
Graiter's Ice Cream Corporation
Glimsher Properies Corporation
United States Air Force
The Glenn Miller Festival
Dayton Dragons Baseball
The Fraze Pavilion, OH
La Comedia Dinner Theatre
Bearcreek Farms Resort
French Lick Resort
Grand Victoria Casino
Coney Island Amusement Park
The Beach Waterpark
Kings Island Resort
The Packard Museum
Phoenix Talent Agency
Dayton Art Institute
University Of Kentucky
The Ohio State University
Wright State University
Miami University
The University Of Dayton
Riverscape, City of Dayton
Pyramid Hill Sculpure Park, OH
Cincinnati Museum Center
Springfield, OH Summer Arts Series
Cincinnati Warbirds
Selfridge Air Force Basce

We have also performed for numerious
cities throughout the states of Ohio, Indiana,
and Kentucky. Performance venues have also
included County Fairs, Summer Concert Venues,
Corporate Events, Wedding Receptions, etc.